UEFA Futsal Champions League Finals
Buy ticket on UEFA Futsal Champions League Finals
Dear Friends! Dear Fans!
We hurry to inform you that the UEFA Futsal Champions League Finals, which was going to hold in Minsk on April 24 and 26, 2020, has been POSTPONED.
This decision was made today, by the UEFA Organizing Committee and the organizers of the tournament MINI FOOTBALL CLUB "STALITSA", in order to prevent SARS cases, as well as COVID-19. The decision is very difficult and requires careful study of the event transfer with the team calendars and the host arena.
A new date for the UEFA Futsal Champions League Finals will be announced later, stay tuned.
We take care of our fans from all over the world and don't want them to face any danger, even a small one. We are sure things will get better soon and we will share unique emotions together in Minsk while watching a truly historic UEFA Futsal Champions League Finals.
All tickets purchased remain VALID on the new date.
Also, if you are unable to visit the event on a new date, tickets will be returned in 100% from the date 23.03.2020.
You can return tickets at the head office of Ticketpro, Minsk, 25 Masherova Ave, in accordance with ticket refund code of Republic of Belarus, as well as in accordance with the provision for ticket refunding of the MINI FOOTBALL CLUB "STALITSA"organizer. Learn more about the return policy here: https://www.ticketpro.by/novosti/o-vozvrate-denezhnyx-sredstv-za-priobretennye-bilety-na-final-ligi-chempionov-uefa/.
Foreign citizens can return tickets by writing on an e-mail help@ticketpro.by. Please, write a ticket refund application (in free form), attach photo of tickets and account statement scan.
For all questions, you can contact by e-mail: sale@ticketpro.by; tkt.uefa.final4.by and by phone: +375 29 693 59 35, +375 17 336 33 11.
Please don't rush to return tickets, we will be happy to hold the event and share all the emotions from the exciting game with you!
Also, if you want to be the first to receive information about the new date of Final 4x, please leave your email and we will inform you!
The organizing team of the UEFA Futsal Champions League Finals wishes you good health, take care of yourself and your family and see you in the stands!
---
Be sure to read the rules for refunding money for tickets purchased:
The UEFA Futsal Champions League Finals in Minsk!
For the first time UEFA Futsal Champions League finals will be held in Minsk. Minsk-Arena, the best and unique sports complex of Belarus, will host semifinal and final matches as a neutral playing ground.
Top European clubs will compete for the Champions Cup this season: «Barca» and «Murcia» (Spain), «Tyumen» and «KPRF» Moscow (Russia).
Tickets are available for the whole day, which means that for the price of one ticket you can enjoy two matches. Big food court with a variety of cuisines and drinks will wait supporters to create comfortable atmosphere. And even more, spectators will have a great time in the activation zones for all ages and preferences.
Matches Schedule:
April 24 (Friday)
Semifinal 1 - «Barca» (Spain) & «KPRF» Moscow (Russia) - kick off at 18:00
Semifinal 2 - «Murcia» (Spain) & «Tyumen» (Russia) - kick off at 21:00
April 26 (Sunday)
Matches for bronze medals - kick off at 15:30
Final match - kick off at 18:00
If you like exciting sports and bright emotions, If you want to feel the spirit of top competition - then this dynamic and intense game will bring you a lot of joy and fun.
Visit the unique top event and be a part of the historic finals of the Champions League!
A special price of 2 BYN is provided to disabled people (with visual impairments, for deaf or wheelchair users). Such tickets are available by presenting disability certificate at the Ticketpro box office, 25, Masherova str. Foreign citizens with disability may book tickets beforehand by writing to tkt@uefa.final4.by.
A possibility to book VIP lounge and tickets to VIP hospitality zones is also available. For purchase please contact the organizers by tkt@uefa.final4.by or by +375 44 574 54 49. Information about ticket category (VIP lounge or VIP hospitality zone), amount of tickets, intended payment method (cash or card) and contact information for feedback should be provided beforehand. Our specialists will offer you the best option available.
If you want to purchase not only tickets, but also a package of "Travel Services" (hotels, transfers, excursions, etc.) you can do this without leaving your home on this site https://vetliva.ru/uefa/
Visit the unique top event and be a part of the historic finals of the UEFA Futsal Champions League!
Video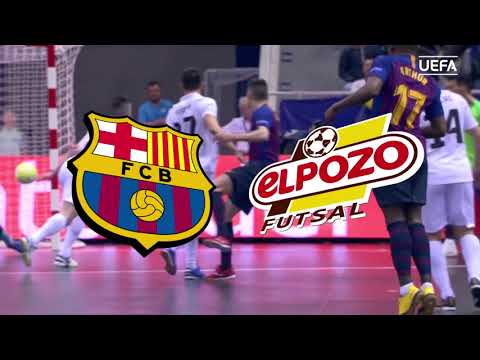 Upcoming events